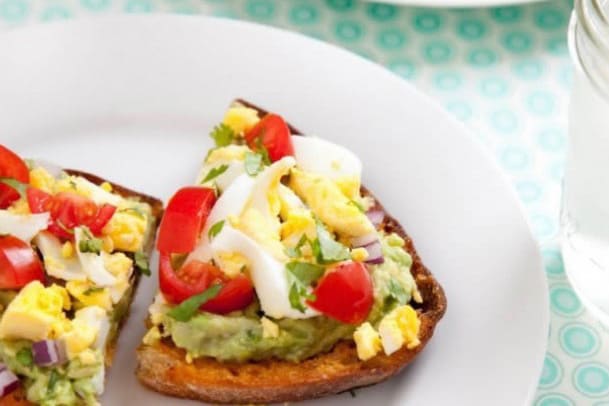 Print Recipe
Ingredients
Preparation
Recipe by Bold with Butter
Yield: 4 servings
Ingredients:
4 tablespoons unsalted butter, at room temperature

2 cloves garlic, minced

1/2 teaspoon ground chipotle powder

1/4 teaspoon ground paprika

Salt and pepper, to taste

4 thick slices artisan bread, such as sourdough

3 ripe avocados, halved and pitted

1 tablespoons freshly squeezed lime juice

1/2 teaspoon kosher salt

2-3 chopped hard-

boiled eggs

Finely chopped red onion

Grape or cherry tomatoes, quartered

Fresh cilantro, minced
Directions:
To make compound butter, combine butter, garlic, chipotle powder and paprika in small bowl. Season with salt and pepper to taste. Mix well until evenly combined.
Spread thin layer of butter on both sides of bread slices. Warm skillet (preferably cast iron) over medium-high heat. Once hot, add buttered bread to pan and cook, turning once, until crisp and browned on both sides. (Alternatively, cook on grill or grill pan.) Remove from heat and set aside to cool slightly.
Meanwhile, scoop flesh of avocados into medium bowl. Add in lime juice and salt and mash together coarsely with fork. Spread generous layer of avocado mash on each slice of toast. Top with some of hard-boiled egg, red onion, tomatoes and minced cilantro. Serve immediately.