Butter Lettuce Salad with Green Goddess Dressing and Parmesan Croutons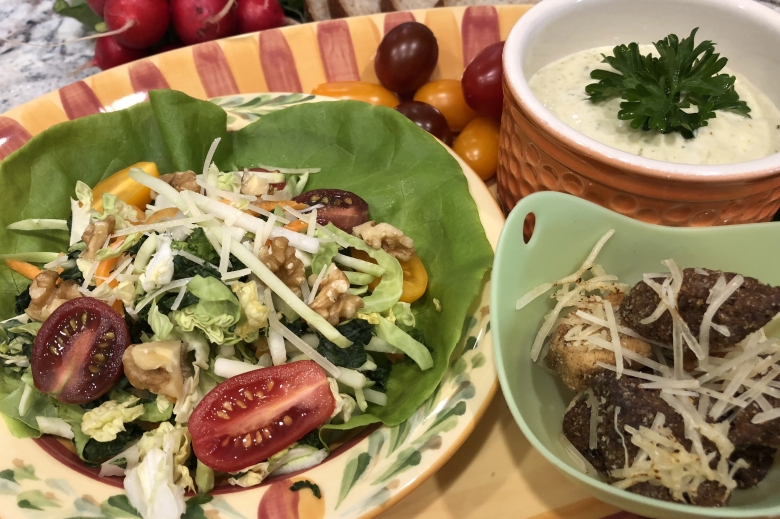 20

15

35

4

Print Recipe
Ingredients
Salad Ingredients:
2 small heads butter lettuce, trimmed and washed
1 pint grape or similar-sized heirloom tomatoes, washed and halved
2 cups super salad blend of shaved, julienned and chopped vegetables (see note)
1/2 cup shaved or thinly sliced radishes
1/4 cup walnut pieces
Croutons:
Day old bread of choice (I like whole wheat, French, and Cuban bread)
1/4 cup shredded Parmesan cheese, or more to taste
Extra-virgin olive oil
Coarse salt and freshly ground black pepper to taste
Dressing:
1/2 cup mayonnaise
1/3 cup buttermilk
1/2 cup chopped fresh chives
1/4 cup coarsely chopped flat-leaf parsley
1 tablespoon freshly-squeezed lemon juice
2 teaspoons anchovy paste, or 2 fillets packed in oil, drained and chopped
1 garlic clove, minced
Coarse salt and freshly ground pepper to taste
Preparation
Make the croutons:
Preheat oven to 400F
Cut or tear bread into cubes. They don't have to be perfect geometric shapes. In fact, it's much better if they aren't. Put bread and Parmesan cheese into a large mixing bowl. Drizzle generously with olive oil. Season with salt and pepper. Using a spatula mix well.
Spread onto a nonstick sheet pan in a single layer. Bake for about 15 minutes. Let cool completely.
Make the dressing:
In a processor, purée mayonnaise, buttermilk, chives, parsley, lemon juice, 2 anchovy paste or fillets, and garlic.
When the mixture is completely smooth, season to taste with salt and freshly ground black pepper.
Assemble the salad:
Line salad plates with 4 butter lettuce leaves. (If you prefer, you can tear the lettuce into pieces and create a bed on the plates.)
In a mixing bowl, combine super blend mix with radishes.
Top butter lettuce with a generous1/4 cup or more of the super blend and radish mixture. Scatter tomatoes and walnuts on top and around the vegetable mix. Add croutons to taste.
Dollop with dressing to taste.
Recipe note: I bought the Marketside Super Blend of vegetables at my local Walmart. It's a yummy mix of flavorful mix of brussels sprouts, Napa cabbage, kohlrabi, broccoli, carrots, and kale.