Caprese Salad with Pesto Drizzle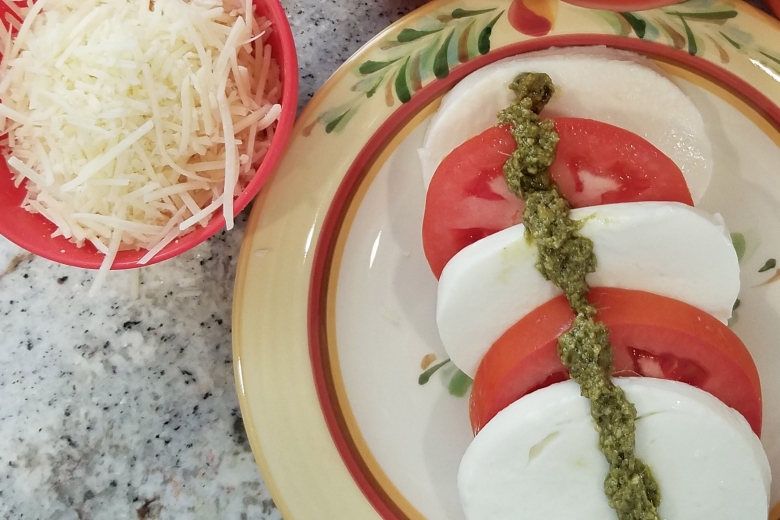 15

0

15

4

Print Recipe
Ingredients
Salad Ingredients:
1 pound fresh mozzarella (look for log-shaped cheese packed in water in the deli department or fine-cheese aisle), sliced into rounds
4 medium to large tomatoes (for best visual results you want the cheese slices and tomato slices to be similar in size), cored and sliced
Coarse salt and freshly ground pepper to taste
Walnut basil pesto (see note):
1/2 cup walnuts
4 garlic cloves (or more to taste)
5 cups fresh basil leaves, washed, patted dry, and packed into the measuring cup
Coarse salt and freshly ground pepper to taste
1 1/2 cups extra-virgin olive oil
1 cup freshly grated Parmesan cheese
Preparation
Pesto Directions:
Place the walnuts and garlic in the bowl of a food processor or blender. Pulse or blend until the garlic is completely incorporated and the walnuts release their natural oil, about 30 seconds.
Add the basil, a hefty pinch of salt, and a generous turn of the pepper grinder.
With the machine running, slowly pour in the olive oil. When the basil leaves are a vibrant green and thoroughly pureed stop the machine. Add the Parmesan and puree for 30 seconds. Taste for seasonings, adding more salt and pepper to taste.
Salad Directions:
Layer tomato and mozzarella slices on serving plates. Season to taste with Coarse salt and freshly ground pepper to taste.
Generously drizzle the walnut pesto mixture down the center and serve.
Recipe note: You will have more pesto than you need for four salad servings. But that's just fine. Now you have stash of fresh flavor in the refrigerator to add to soups and sauces. To keep pesto from browning, pour enough olive oil into the storage container to completely cover the surface. For longer storage, freeze pesto in ice cube trays then transfer frozen cubes to a sealable bag.
Holiday suggestion: Homemade pesto is a great gift from the kitchen.