Cauliflower "Mac" and Cheese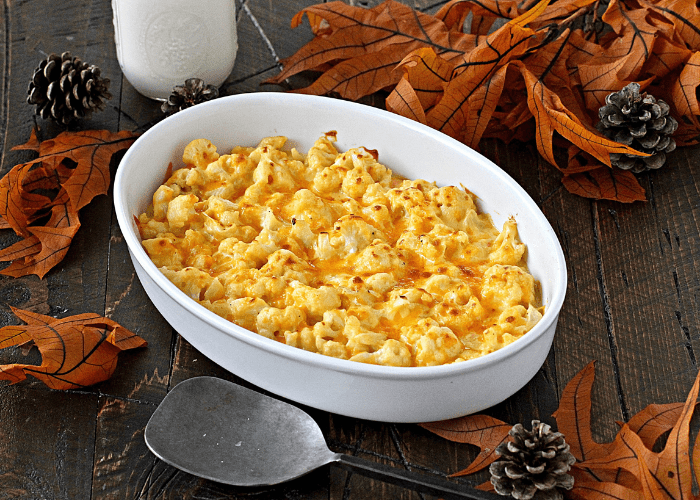 10

30

40

5

Print Recipe
Ingredients
6 cups cauliflower florets (1 head of cauliflower)

2 teaspoons unsalted butter

2 teaspoons olive oil

3 tablespoons minced onion

2 tablespoons flour

1 1/2 cups Florida milk

1/2 teaspoon kosher salt

1/4 teaspoon black pepper

1/4 teaspoon garlic powder

6 ounces shredded cheddar cheese (about 2 cups)
Preparation
Preheat oven to 375°F.

Steam the cauliflower for 5 minutes until partially cooked. You can either do this in a steamer or in the microwave. To steam the cauliflower in the microwave, place the florets in a large microwave-safe bowl and add a few tablespoons of water. Cover the dish and microwave for 5 minutes until tender-crisp.

Meanwhile, heat the butter and olive oil in a large sauté pan over medium heat. Add the onion and cook a few minutes until softened. Stir in the flour and cook another minute or two. Add the milk, whisking as you pour it in. Whisk in the salt, pepper and garlic powder.

Turn the heat up to medium high and simmer the sauce for a few minutes while whisking until it is slightly thickened and smooth. Turn off the heat and whisk in about 1½ cups of cheese (leave about ½ cup aside for the topping). Add the cauliflower to the saucepan and stir to coat all of it with the sauce.

Pour the mixture into a baking dish sprayed with cooking spray. Sprinkle the remaining cheese evenly over the top. Bake in the oven 15-20 minutes until bubbly. Turn on the broiler and cook another 2-3 minutes until top is lightly browned.