Pepper Drop Biscuits with Fresh Mango and Mint Whipped Cream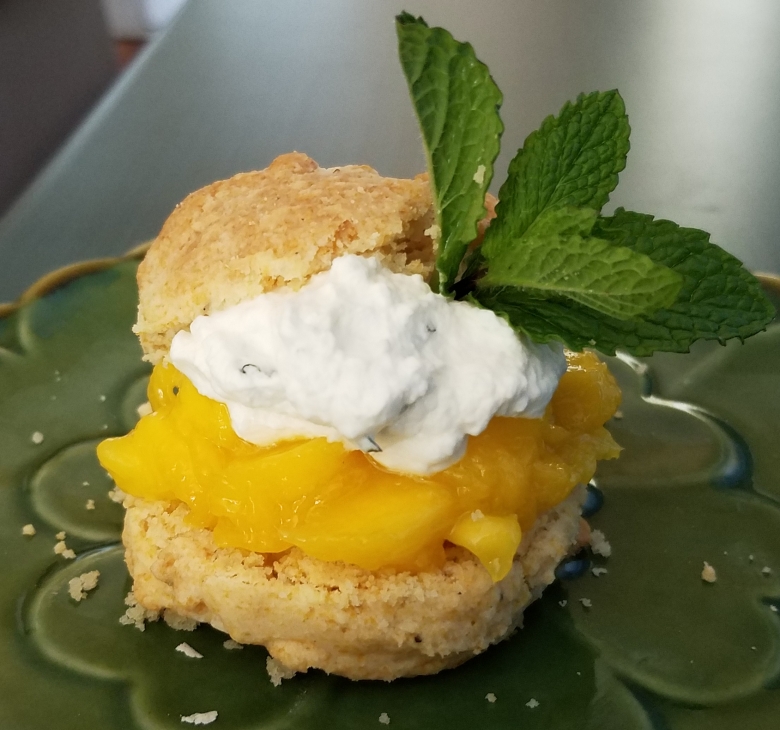 15

17

32

10
June Dairy Month reminds us that dairy farming is a family tradition in the Southeast. In Florida, dairy farms are primarily owned and operated by second and third-generation farmers. These operations collectively produce about 300 million gallons of milk a year with Lafayette and Okeechobee recognized as Florida's leading dairy counties.
Florida's dairy farmers recycle about 170,000 tons of agricultural byproducts such as citrus pulp, brewers' grain and whole cottonseed that are consumed by the cows instead of ending up in landfills. Being good stewards of the land is important to the entire industry.
In the kitchen, Florida farmers love to combine their dairy products with other Florida harvests to create sweet and savory dishes. Today's recipe accomplishes both.
These savory drop biscuits filled with fresh mango make a nice side for brunch menus or summer picnics. No sugar is added to the rich whipped cream topping because the fruit has enough natural sweetness to carry this dish.
Recipe provided by Heather McPherson from Heather's Florida Kitchen.

Print Recipe
Ingredients
Biscuits:
1 1/2 cups all-purpose flour
1/4 teaspoon salt
1 1/2 teaspoons freshly cracked black pepper or more to taste (see note)
2 teaspoons baking powder
6 tablespoons cold butter, diced
3/4 cup heavy cream, divided
1 tablespoon melted butter
Filling:
4-6 cups diced Florida mangos
Topping:
1 cup heavy cream
1 teaspoon freshly chopped mint, plus 8 mint leaves or sprigs for garnish
Preparation
Preheat the oven to 400F. Line a baking sheet with parchment paper.
For the biscuits, combine flour, salt, pepper, and baking powder. Cut the butter into the flour with a pastry blender or crisscross throughout the mixture with two knives. When ready to proceed, the flour mixture should be soft and pebbly. Mix 1 tablespoon of the cream with 1 tablespoon melted butter. Add the remaining cream to the flour mixture. Stir until the mixture just comes together like a loose dough. Using an ice cream scoop, portion out 10 biscuits onto the prepared baking pan. Bake 15 minutes. Brush tops lightly with cream and melted butter mixture. Bake 2 minutes more.
For the topping, whip the cream until soft peaks form. Add the mint and whip until stiff peaks form.
To assemble, cut the biscuits in half with a knife and place on a platter or individual serving plates. Divide the diced fruit among the bottom halves, reserving some fruit for garnish. Dollop whipped cream on the fruit. Top with the other biscuit half. Scatter reserved diced mango on the side and top each with a mint leaf.
Recipe notes:
Mangoes are harvested in Florida May through October. Allow fruit to ripen at room temperature until soft. The fruit is a good source of vitamins A and C.
Drop biscuits have more liquid added to the dough than rolled biscuits. The dough is "dropped" onto the baking sheet giving them a rumpled-like appearance. The biscuits do not rise as much as other biscuits.