Pimento Cheese Quick Bread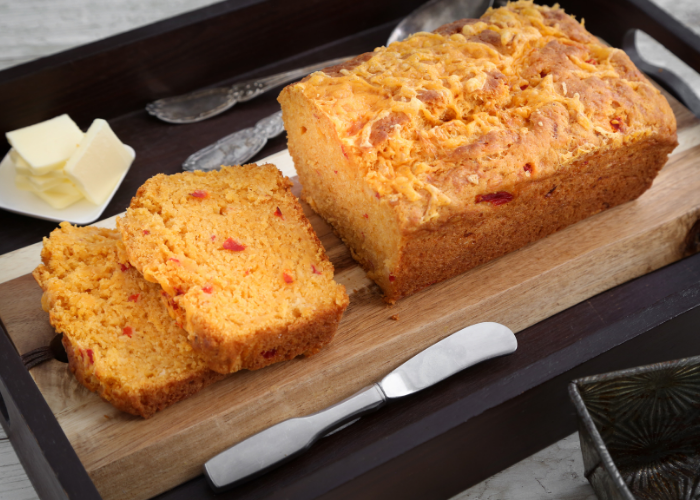 30

45

75

1 loaf

Print Recipe
Ingredients
2 cups all-purpose flour

4 teaspoons baking powder

2 teaspoons smoked paprika

1/2 teaspoon fine grain sea salt

1/2 cup buttermilk

2/3 cup mayonnaise

1 egg

1/2 onion, grated

1/2 cup (1 stick) butter, melted

1 1/2 cups grated extra sharp cheddar cheese, divided

1 jar (4 ounces) pimentos, drained and chopped
Preparation
Preheat oven to 350°F.

Butter an 8x4-inch loaf pan.

Combine first 4 ingredients in mixing bowl; whisk until combined. Combine buttermilk, mayonnaise, egg and onion in large glass measuring cup with pour spout; whisk together until combined. Pour wet ingredients into dry ingredients and mix until just combined. Add melted butter and stir well.

Fold 1 1/4 cups of the cheddar cheese and pimento peppers into mixture using large rubber spatula.

Bake for 35-45 minutes, or until toothpick tester comes out clean. Sprinkle top of hot bread loaf with remaining 1/4 cup cheddar cheese.

Let bread cool in pan for 10 minutes, or until cheese on top of loaf is melted, then transfer to wire cooling rack.

Serve slices of bread warm with butter.