Zucchini-Jalapeño Au Gratin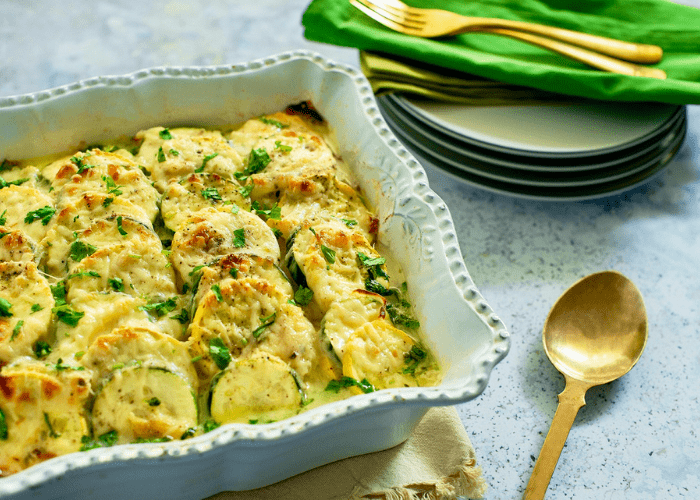 20

40

60

6

Print Recipe
Ingredients
2 tablespoons butter plus more for dish
1 cup onion, chopped
4 cloves garlic, minced
1.5 jalapeños, finely diced
1.5 tablespoons fresh oregano, finely chopped
2 tablespoons all-purpose flour
1 1/2 cups whole milk
2 cups shredded Oaxaca or Asadero cheese, divided
1/2 cup freshly grated Parmesan cheese + 1 tablespoon, divided
Salt and pepper to taste
2 medium zucchinis, sliced crosswise into 1/4" coins
1 medium yellow squash, sliced crosswise into 1/4" coins
Chopped fresh cilantro for garnish
Preparation
Preheat oven to 375° and butter a medium casserole dish (8 X 11).

In a large skillet over medium-high heat, melt butter. Add the onions and cook for 3 minutes, until fragrant and translucent. Add the garlic, jalapeños and oregano and cook for another 5 minutes. Add the flour and mix well. Cook until flour is golden and starts to bubble, about 1 minute more. Add the milk and stir until mixture comes to a simmer. Cook until slightly thickened, about 1 minute.

Turn off the heat and mix in 1½ cups Oaxaca and ½ cup Parmesan cheeses. Stir until cheese has melted, then season with salt and pepper if needed.

Add a layer of zucchini and yellow squash to the baking dish, alternating and overlapping the zucchini/yellow squash slices. Season with salt and pepper and spread about one-third of the cream mixture over the zucchini. Sprinkle some of the remaining Oaxaca on top. Repeat this two more times, your last layer should be 1/3 of the cream mixture.

Bake until bubbly, for 25-28 minutes. Turn the oven to broil and bake for another 3 minutes, until golden. Garnish with cilantro and serve immediately.