Built With Chocolate Milk
Chocolate milk is nature's sport drink! It is an ideal post-workout beverage with every serving containing the nutrition needed to promote effective recovery after exercise. Those nutrients include carbohydrates to refuel muscles, protein to reduce muscle breakdown and stimulate growth, and fluid and electrolytes to replenish what is lost in sweat and to rehydrate the body. Backed by science, more than 20 studies support the benefits of recovering with the high-quality protein and nutrients in chocolate milk after a tough workout.
Lowfat Chocolate Milk:
Is a natural source of high-quality protein to build lean muscle.
Contains the right mix of protein and carbs scientifically shown to refuel exhausted muscles and help return to peak potential.
Provides fluids and electrolytes – like calcium, potassium, magnesium and sodium – to rehydrate and help replenish critical nutrients lost in sweat.
When Do I Refuel?
Drink 16 ounces of chocolate milk within 30 minutes of completing your workout, practice or competition.
Refuel with chocolate milk between double training sessions and closely scheduled competitions.
Include chocolate milk in your daily diet. Good nutrition can make a big difference in your performance.
Chocolate Milk Contains:
90 percent water, which helps replace fluids and rehydrate the body.
Calcium, Vitamin D and phosphorus to help promote, maintain and build strong bones.
Protein to reduce muscle breakdown.
Carbohydrates to fuel muscles during exercise and help muscles recover after exercise.
Potassium to help with fluid and mineral balance and muscle contraction.
B vitamins that help convert food to energy to fuel working muscles.
Chocolate milk contains carbohydrates and protein that are important for an athlete's health. From bone building to muscle strengthening, the nutrients in chocolate milk provide a variety of positive health benefits. A study in the British Journal of Nutrition showed that low-fat milk was more effective than water or a carbohydrate fluid-replacement drink at replenishing fluids and maintaining hydration post-exercise. Most adults don't realize their bones continue to grow until about the age of 35. In addition to being a great sports drink, milk can help prevent osteoporosis.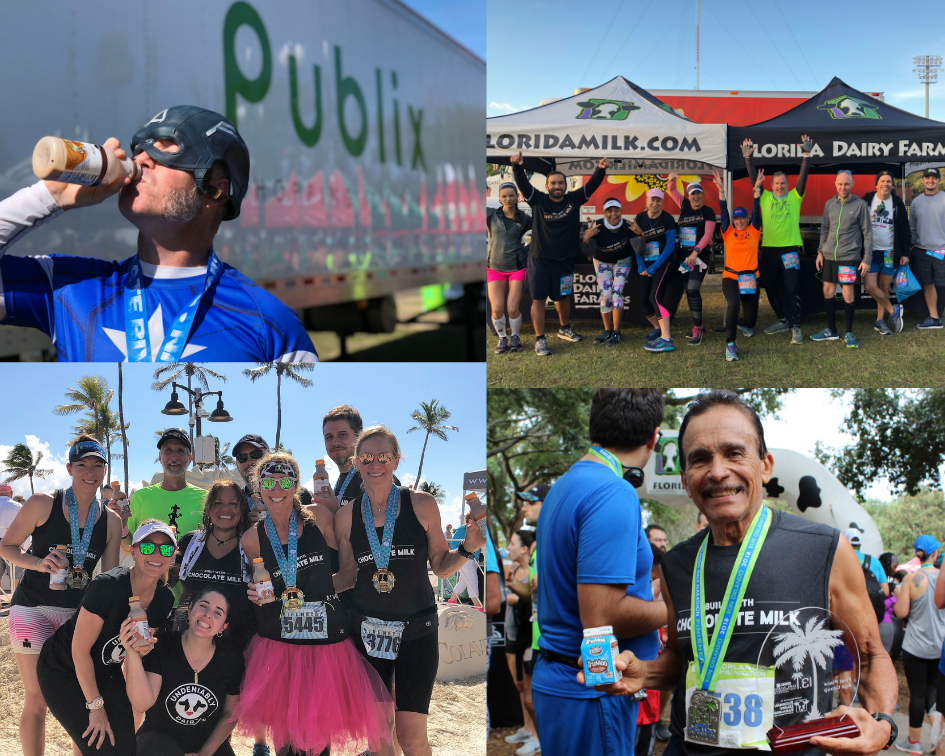 Join the Florida Milk Build It Team:
Is chocolate milk your go-to drink after a run or workout? Florida Dairy Farmers is looking for athletes to join the Florida Milk Build It running team. You could have the opportunity to receive race entry and Florida Milk swag, and represent us at several races including Orlando's OUC Half Marathon, Gate River Run in Jacksonville, A1A Marathon and more.
Here's where we will be for the upcoming 2020 race season:
Publix Fort Lauderdale A1A Marathon and Half Marathon
January 26, 2020
https://a1amarathon.com/
Gate River Run
March 20, 2020
https://gateriverrun15k.com/
St. Anthony's Triathlon
April 25 & 26, 2020
https://satriathlon.com/
For more information, and to tell us why you should be on Team Florida Milk email our team captain, Brittany!